Hear What Our Customers Have to Say

"Completely Satisfied"
You have an excellent staff and they made the buying experience trouble free. Carl Chudy worked with me to get what I wanted at the price I was willing to pay. He was courteous and professional, as was Mose Ivey in Customer Service. Mr. Ivey was thorough, knowledgeable and very friendly. He is a gem. He exhibited extreme patience as my cell phone kept interrupting his well executed explanations of Lonestar's commitment to your customers and the benefits of ownership.

I have purchased several vehicles from Lone Star over the years and I am glad I came back.Ther only reason I left, was because of a company policy to purchase higher mpg trucks. Unfortunately, the other brand (Toyota)did not live up to their claims of higher mileage, and the quality of truck did not compare to my previous F-150's

Thank you, thank Mr, Chudy and thank Mr. Ivey. They made the Lonestar shine brighter.

Parten, Inc.

"Top Ford Dealership"
I've dealt with several Ford dealerships in my lifetime of owning Ford vehicles - the folks at Lonestar are tops! Thank you all so much!

T.Raptor

"New Expedition"
Lone Star seems to be a group of individuals who really care about providing Ford vehicles to customers with care and concern for the customer. Thanks to all who took care of my purchase and God bless. Sincerely Mitch Pitre
Mitch Pitre
"Everyone Buy Here"
I would highly recommend a friend or relative to purchase a vehicle from Lone Star Ford from the moment you arrive your greeted wanting your business. The whole experience from when I arrived to when I left in my car is just top of the line and I highly recommend the dealership to everyone I know
Pablo Alvarez
"Easiest Car Purchase Ever!!!"
This was probably one of the easiest car purchases I ever made. Most of the negotiations were done by e-mail/internet and finalize face-to-face in a matter of minutes.
Karl Petter
"..the difference in our decision was the friendliness and courtesy of your staff"
Dear Lone Star
I am writing to thank everyone for being so kind and helpful in our adventure of buying a new Ford F150. We shopped around, of course, for the best deal, but what made the difference in our decision was the friendliness and courtesy of your staff there at Lone Star, especially Mr. Lupe Hernandez.
Lupe answered all our questions, helped show us everything we needed to know about the new truck, and went overboard to make sure we were completely satisfied with the purchase of our new truck.
As I am not very good at installing new devices, he even made sure that my phone was working before we left the parking lot and put new plates and sticker on. Lupe is an asset to your company, as he made us feel comfortable and at home, and was honest and down to earth in dealing with us.
Thanks again to Mr. Lupe Hernandez and Lone Star.
Sandra and Bobby Sanford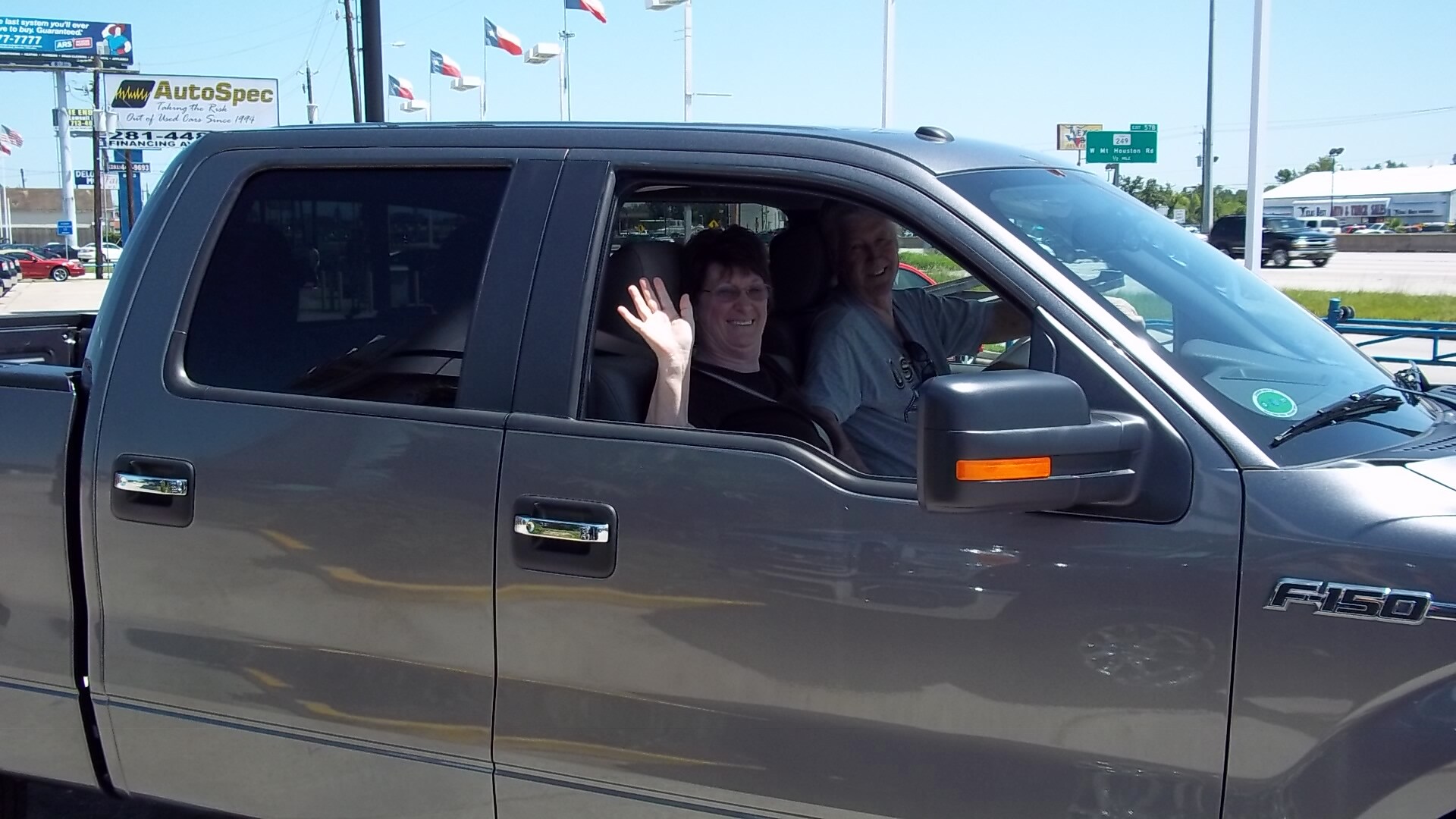 "My 2003 F-150 Ford Lightning has served me very well.."
Hello Rodrigo

I am still getting mail from Lone Star Ford signed Charles D. Green. Since I cannot find his e-mail directly I am sending this to you in hopes that this will reach the appropriate party..................
..............My 2003 F-150 Ford Lightning has served me very well. I still get comments on it regularly. .......... Everything else is well. I entered it into a car show this last weekend because I am still very proud of my purchase. I have nothing but good to say about the vehicle. 61,000miles and going strong. My wife even likes it. I had her take it up to Epping, NH New England Dragway and she went 14.1sec/98mph first pass in the 1/4 mile 2 months ago. Never been to a dragstrip in her life. Amazing, since it will only do 13.9's. But 13.9's for a truck is flat out crazy! That is the same performance this thing had brand new. It is reliable in every sense of the word. Thanks again! I am very glad I chose this vehicle over the Dodge SRT-10 Ram. I can actually tow with my Lightning standard cab. You can't do that with a SRT-10 Ram standard cab. Hope all is well in the Lone Star.

Have an outstanding day,

Jason Bemiller