Houston, Texas Car Repairs and Ford Service
We understand how big of an investment your vehicle is. Lone Star Ford's auto repair and service center is here to help you protect your investment. Our team will do this through factory-recommenced service and repairs to ensure your vehicle is like-new. Our Ford service center in Houston has access to OEM Certified Ford auto parts and accessories to ensure that each repair is done to factory specifications. This will help you save time and money in the long run, and also helps ensure your vehicle maintains it's integrity and safety.

Our high-tech facility and friendly service center sets us apart from other Ford service and repair centers in greater Houston. To set up your appointment, complete our online service appointment form or give us a call at (800) 801-9906. If your vehicle is need of immediate service or repair, you can bring your new Ford or used car to our dealership located at 8477 North Free in Houston, Texas. 
Experience the Star Treatment in the Lone Star Ford Service Department!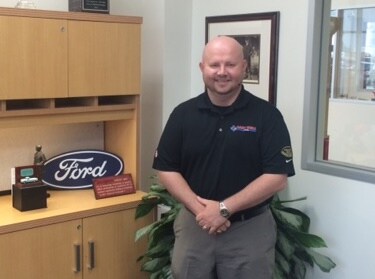 Mark Wheeler
Service Director
855-498-8481
 
 
 

 

 
 
 Chris Agundu
Service Advisor

 Jose Zendejas
Service Advisor
855-473-3993

 Cochise Willis
Service Advisor
855-474-6007

 Sebastian Stepper
Service Advisor
855-504-5011

 

 
 

  
 Scott Allison
Service Advisor
855-474-3115

 Teresa Baker
Cashier

 Maria Robles
Cashier

Rick Jones
Service Advisor 
Our service department has earned the "Presidents Award" twelve years. This is Ford Motor Company highest award for excellence.

We specialize in quality work and happy customers. Our Ford "Fix It Right" quotient is consistently among the highest in the entire region.

We have 21 of the best ford trained automotive technicians in Houston. Six are certified Ford Master Technicians. This means they understand the very latest in Ford automotive technology. Our technicians are EEC (Electronic Engine Control) certified to work on 5th generation computer controls.

At Lone Star Ford Service, we have state of the art diagnostics, including the SBDS (Service Bay Our goal is to get you back on the road as soon as possible Diagnostic System). This amazing machine can give a complete picture of what's going on inside your vehicle's engine.

To keep our technicians up to date on the latest innovations from Ford, we are online with Ford Star Training. This cutting-edge training program beams live interactive classes direct from Ford to our own dedicated training room, the only one in this region.

Along with the superior personnel and training, Lone Star Ford Service has one more advantage. We are right next door to over 3.5 million Ford parts, courtesy of the Lone Star Ford Parts Warehouse. Only rarely will we not have the part on hand to finish your job on time.